Bridge Inspection
Engineering Operations proudly specializes in Bridge Inspection and has extensive experience in all types of inspection, including:
Underwater Inspection
An inspection of the underwater portion of a bridge substructure and surrounding channel, which cannot be inspected visually at low water by wading or probing. This type of inspection generally requires diving or other types of techniques.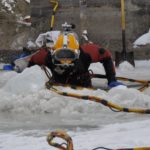 Underwater inspection is a passion for Owner Benjamin Kenney, who has extensive experience with this type of highly specialized work. Not only has he performed underwater inspection work on waterfront facilities, ports, bridges, and dams in many states and for task order contracts overseas for Naval Facilities Engineering Command (NAVFAC), he is also an ADCI Dive Supervisor and commercial diver. Ben knows first-hand the challenges of contaminated diving, mixed gas, high flow, and low visibility situations and believes the key to a thorough underwater inspection starts and ends with the diver.

Fracture Critical Inspection
Fracture critical members are steel members or components loaded in tension, whose failure would be expected to result in the collapse of a bridge or structure. At a minimum, the failure of a fracture critical member would prevent the bridge from functioning to its designed function.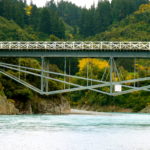 Engineering Operations is well-equipped to perform this type of inspection, having experience performing fracture critical inspections in many states and overseas. Their team has the certifications, training, and experience to provide thorough documentation and reporting in accordance with the Federal Highway Administration and state-specific standards.
The inspection team has the ability to access the entire bridge within three feet or arms reach of all fracture critical components through SPRAT rope access techniques or mechanical inspection equipment. Depending on the complexity of the design, a Certified Welding Inspector (CWI) is part of our inspection team when necessary.
In-Depth Inspection
A close-up inspection of one or more members above or below the water level to identify any deficiencies not readily detectable using routine inspection procedures; hands-on inspection may be necessary at some locations.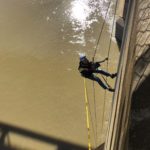 Engineering Operations has the expertise to perform several different types of testing on a variety of bridge materials. Common types include Mag Particle, Ultrasonic, Acoustic Emission, Liquid Penetrant, Eddie Current, Angle Beam, and Straight Beam.
Special Inspection
An inspection scheduled at the discretion of the bridge owner, used to monitor a particular known or suspected deficiency.
Routine Inspection
A regularly scheduled inspection consisting of observations and/or measurements needed to determine the physical and functional condition of the bridge, to identify any changes from initial or previously recorded conditions, and to ensure that the structure continues to satisfy present service requirements.
Initial Inspection
The first inspection of a bridge as it becomes a part of the bridge file. Data is collected to provide all Structure Inventory and Appraisal (SI&A) and other relevant data to determine baseline structural conditions. This inspection information records the first documentation for the bridge record.